Chapman quits Presidential race over nomination fees #ElectionsZW
Democratic Union of Zimbabwe (DUZ) leader Robert Chapman who officially launched his 2023 General elections campaign a few weeks ago, has pulled out of the Presidential race.
Chapman who stole limelight on social media and earned himself the nickname "Obama lite" indicated that his reason for withdrawing from the polls are to do with nomination fees and campaign budget.
Writing on Twitter, Chapman said the tough lessons from the nomination court will help him to build back better and wiser.
"I would like to personally thank all those who worked hard and remained true to our cause for an alternative option to the political landscape of Zimbabwe.
"As I and we all reflect on this moment, the tough lessons allow the opportunity to build back better and wiser," he said.
Despite pulling out of the race, Chapman indicated that he will be on the ground to his party's nominated candidates to campaign.
"look forward to campaigning on the ground with all our successfully nominated candidates and remain committed to improving the dialogue about building a better Zimbabwe," he said.
Below is also a statement from his party confirming his withdrawal from the race.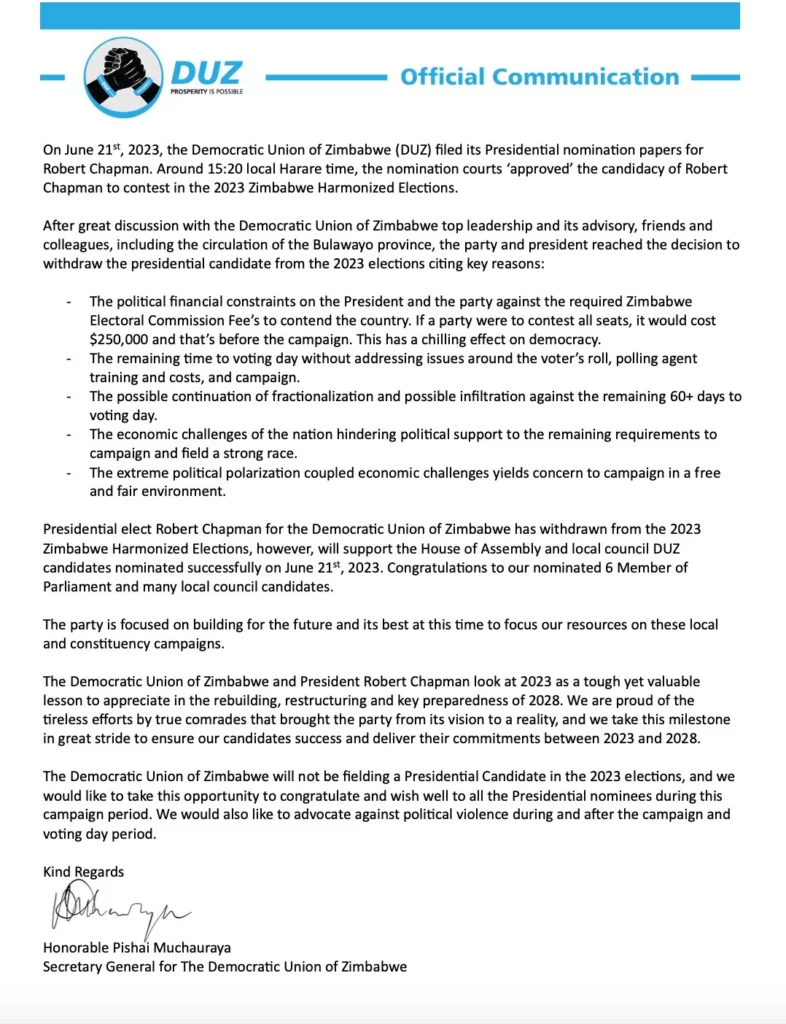 Nomination fees for Presidential hopefuls was pegged at US$20 000 or equivalent in RTGS at the obtaining exchange rate, while for the 210 Parliament seats one had to pay US$1000.
A lot opposition parties that had been formed in the past years where nowhere to be seen at High Court where nomination for Presidential Candidates was happening.
Others like Linda Masarira and Elisabeth Valerio had challenges with payment issues due to bank limits and transaction clearance time.
Although Zimbabwe Electoral Commission did give then a reprieve on the 22nd of June, Linda Masarira still failed to make the payment, while the situation with Elisabeth Valerio remains unknown.
About 11 candidates have been confirmed by ZEC for the Presidential race so far.
These are Emmerson Mnangagwa (Zanu-PF), Nelson Chamisa (Citizens Coalition for Change), Douglas Mwonzora (MDC), Trust Chikohora (Zimbabwe Coalition for Peace and Development) Blessing Kasiyamhuru ( Zimbabwe Partners for Prosperity), Harry Peter Wilson ( Democratic Opposition Party), Gwinyai Muzorewa (United African National Congress), Joseph Makamba Busha (Freezim Congress), Saviour Kasukuwere (Independent), Lovemore Madhuku (National Constitutional Assembly) and Albert Archibald Mubaiwa (NPC).