Supreme Court dismisses Rukanda's appeal against Biti Parly return
Supreme Court of Zimbabwe has dismissed an appeal by Benjamin Rukanda on Tendai Biti and others reinstatement to Parliament.
The High Court had ruled that Rukanda had no authority to recall Biti and others from Parliament because he was not the secretary-general of the People's Democratic Party (PDP).
However, Rukanda had tried to appeal the decision of the court.
In a letter dated 16 December 2021 (Referenced SC 345/21), the Supreme Court advised Rukanda that his appeal did not comply with Rule 55(5) of the Supreme Court.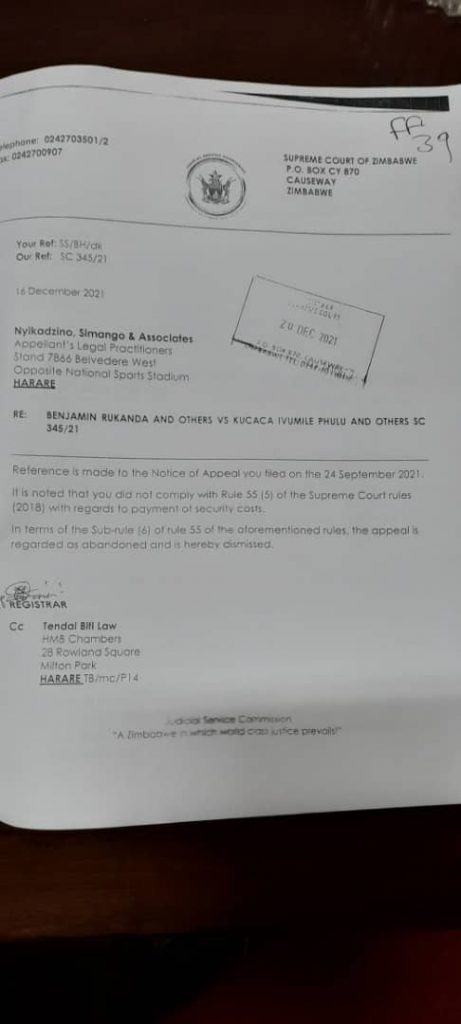 "Reference is made to the Notice of Appeal you filed on the 24 September 2021. It is noted that you did not comply with Rule 55 (5) of the Supreme Court rules (2018) with regards to payment of security costs.
''In terms of the Sub-rule (6) of rule 55 of the aforementioned rules, the appeal is regarded as abandoned and is hereby dismissed," read the letter.
Besides Biti, the other PDP legislators that had been recalled by Rukanda are Willias Madzimure (Kambuzuma), Settlement Chikwinya (Mbizo), Kucaca Ivumile Phulu (Nkulumane), Sichelesile Mahlangu (Pumula) and Regai Tsunga (Mutasa South).
It however remains to be seen how the matter will proceed as President Emmerson Mnangagwa has also included the seats for by-elections.
The by-elections will be held on the 26th of March this year.
PDP, a party that was led by Tendai Biti split owing to differences over the issue of joining the MDC Alliance in 2017.
The other faction went with Biti, while another remained with Lucia Matibenga where Rukanda claims to be the secretary-general.
Lucia Matibenga and her faction joined hands with Joice Mujuru and contested the 2018 general elections under the Rainbow Coalition.
It remains to be seen if the legislators will be allowed back in Parliament in February when it resumes its sittings.
Supreme Court dismisses Rukanda's appeal against Biti Parly return