New trends happening in content creation, civic tech, activism and artificial intelligence are set to dominate discussions at the 2023 edition of Hub Unconference which is set for the 28th and 29th of September 2023, at Moto Republik.
The Hub Unconference which is in its 9th edition and run as part of the annual Shoko Festival program has assumed a new format which will see it happening over two days.
According to a statement from the organisers, ''The programing consists of an exciting cocktail of fireside chats, lighting talks, panel discussions and masterclasses.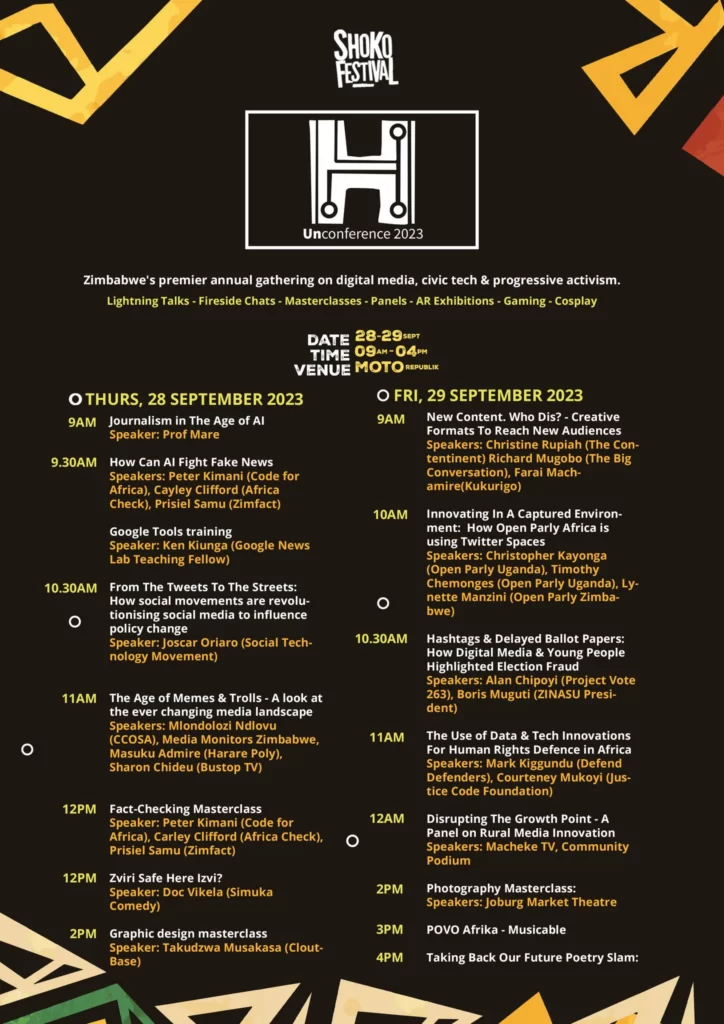 ''There will be cutting edge talks by Christopher Kayonga and Timothy Chemonges from Open Parly UG (Uganda), Cayley Clifford from Africa Check (South Africa), Christine Rupiah from The Continent (South Africa), Peter Kimani from CODE for Africa (Kenya), Joscar Amondi from Social Technology Movement (Kenya), Mark Kuggundu from Defend Defenders (Uganda) and leading Zimbabwean academic Professor Admire Mare,'' read the statement.
The organisers also revealed that there will be various masterclasses that have been planned dyuring the two days.
''The masterclasses will focus on many topical issues and trends including graphic design, fact checking, Tik Tok content and documentary making.''
For those that love comedy or aspire to be comedians and satirists, the Hub Unconference is going to hold the Africa Satire Convention which will see some of the leading satirists in the Zimbabwe and the African continent taking part.
The Africa Satire Convention will look at the power of satire in influencing the youths to participate in public processes like elections.
Bloggers, academics, leading activists and developers drawn from Africa's leading open data initiatives from countries such as Uganda, Kenya, South Africa and Zimbabwe will be part of the Open Data Summit, that will among other things discuss issues such as journalism in the age of AI and an Open Parly Africa panel discussion that will focus on media innovation in a captured environment.
This year, the Open Data Africa Summit is being hosted with support from the Consortium to Protect Human Rights, Civic Freedoms and Media Development in sub-saharan Africa (Charm Africa).
The Charm Consortium has 7 members which include Wits Journalism, Réseau des Femmes Leaders pour le Développement (RFLD), Defend Defenders, Civil Rights Defenders, Civicus, Fojo Media Institute and Magamba Network.
Previous editions of the Hub Unconference have hosted prominent local and international speakers such as Alice McCool (The Guardian UK), Robyn Kriel (CNN), RaheelaMohammed (Al Jazeera) and Lindiwe Zulu from the ANC among many others.
The Hub Unconference is a free to attend event that happens on the sidelines of the annual Shoko Festival, which is running from 28th to the 30th of September at various venues that include, Reps Theatre, Moto Republic and Chitungwiza Unit L Commity Hall grounds.
This year, Shoko Festival is running under the theme #TheTakeBack.