By Pearly Matibe
On 22 March, the United States Department of State made public the initial agenda for the second Summit for Democracy 2023. On Wednesday, White House's National Security Council senior director for Democracy and Human Rights, Rob Berschinski, confirmed that "as of last night, an agenda for the Summit went LIVE on the State Department's Summit for Democracy website—That's at www.state.gov/summit-for-democracy."
An invitation was not extended to Zimbabwe for the previous Summit—the Summit for Democracy 2021. It has not been invited this year either, although 8 countries are new additions to the participating countries in the Summit.
These 8 states did not have an invitation extended to them in 2021. The "new countries that will be invited for the second Summit include Bosnia and Herzegovina, Liechtenstein, Cote d'Ivoire, Gambia, Mauritania, Mozambique, Tanzania, and Honduras," Berschinski said.
"The new governments are at very different stages in terms of the depth and strength of their democracy, which is true of all of our invitees, but at the end of the day we wanted to include those who have the political will, and we want to put wind in their sails so that they can do their part to advance democracies both within their countries and around the world," he added.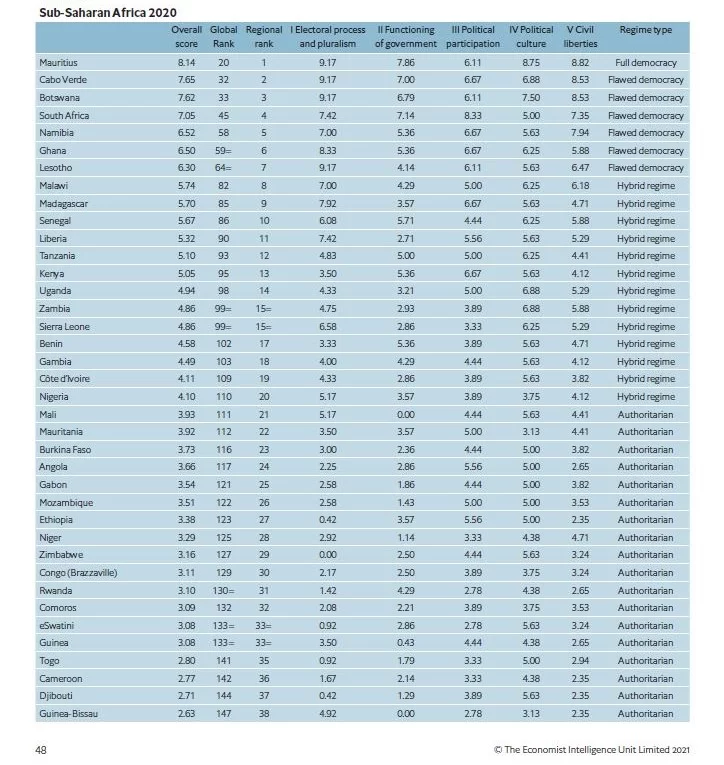 In less than 7-days, United States President Joseph Biden, Costa Rica's President Rodrigo Chaves Robles, Zambia's President Hakainde Hichilema, the Netherlands Prime Minister Mark Rutte, and the Republic of Korea (South Korea)'s President Yoon Suk Yeol, will co-host the Second Democracy Summit 2023.
Berschinski said key announcements by President Biden can be expected during the course of the Summit. "I don't want to get ahead of the President and other senior officials but suffice it to say that we're looking forward to announcing a number of new initiatives to demonstrate how the United States is working to advance our pro-democracy and pro-human rights agenda."
He indicated high confidence that what will be made public by the U.S. Government next week, "will include significant additional financial investment in the Presidential Initiative for Democratic Renewal, which President Biden launched at the first Summit for Democracy with over $400 million in funding.
The new funding will enable new and existing initiatives, programs, and policies that support free and independent media, combat corruption, bolster democratic reformers and human rights activists, defend free and fair elections, and ensure that technology works for, and not against, democratic societies.
When reached for comment on the press freedom aspect of the Summit's agenda that the Dutch is handling, one official in their public affairs office responded on the scope of the role of the Netherlands. "I would like to stress that we (the Netherlands) are co-hosts for a regional event of the Summit. You can find more information our (Dutch) efforts as co-hosts on our website,"
Louise Pfältzer, a spokesperson for the Minister of Foreign Affairs of the Netherlands said on 20 March, in a written response to questions on incorporating African journalism into the Summit's agenda. Pfältzer said, "We mainly aim to target a more regional / European audience (as media freedom is also under pressure in the Netherlands and the wider part of Europe). Therefore, I would suggest [contacting] the Zambian government to tell you more on their (regional) efforts regarding the Summit."
However, several attempts and efforts to make contact with the co-hosting Zambian planning team were unsuccessful prior to this article's publication.
Berschinski did agree and reiterate that journalism is the cornerstone of democracy, that a well-informed society is a prerequisite for a functioning, healthy democracy. "I'm happy to say that journalism is a cornerstone of a well-functioning democracy," he said.
ManyAfrican media professionals—reporters, women journalists, editors, and foreign (or diaspora) correspondents, continent-wide, are not experiencing the outcomes of the first democracy Summit's Year of Action held 15-months ago.
Promotional information about the 2023 Summit was not released until just 8-days before the Summit, making it prohibitive for African audiences wishing to attend or wanting to make advance preparations to attend, for example, in Southern Africa, where Zambia is a named co-hosting country.
That the Summit is being held virtually, is an added element that excludes large swaths of Africa where expensive data to access Wi-Fi connection is a challenge. Furthermore, in countries like South Africa and Zimbabwe, where millions of people are experiencing severe shortages of electricity, attendance, even via video teleconferencing, is an added constraint to participant inclusion.
As an end beneficiary of summits of this nature, when one African editor learned that a Summit was scheduled, he expressed his keenness to attend because of the high value he places on freedom of expression and press freedom.
"How can I attend the Summit in Zambia?" he asked, eager and earnestly keen to attend [name withheld for fear of reprisal to the respondent]. Some leaders working in the not-for-profit sector, around the world expressed that there is no immediate evidence that points to tangible, benefits to the populations, not only of nation-states such as Eswatini and Zimbabwe, but countries in multiple regions, in Africa, and globally, may not directly receive help as a result of the second Democracy Summit, including in the face of emergencies following attacks while conducting their journalism work.
Assumptions may have already been drawn since; they were not recipients of the previous "Year of Action" outcomes from the 2021 Summit. Another African journalist fleeing retribution in his home country—a nation-state that lies north of the Southern African Development Community (SADC)—expressed despair, at the dearth of support for African media practitioners.
Berschinski emphasized, "the priority that the U.S. Government places on media freedom and the sustainability of the journalistic enterprise." He reminded and drew attention to President Biden's Presidential Initiative for Democratic Renewal.
"This is our flagship program of both foreign assistance and policies that reflect key pillars of what it means to have a strong and well-functioning democratic system, and media freedom and journalistic sustainability are one of the five core areas," he explained.
Evidence of U.S. support for, and defending, journalism practitioners, is shown through America's democracy, governance, and human rights initiatives, globally. To cite one example, Berschinski said the U.S. has, "invested in the International Fund for Independent Media, for example, bringing along many partners in the Summit for Democracy process. We've launched a new program by which we will see what is similar to an insurance pool, allowing journalists who are hit with so-called SLAPP suits to be able to have a means to defend themselves, among other programs."
"Our African partner, Zambia, has elected to focus its co-host day event on free and fair elections, which I don't think anybody can argue are equally important to democracy. So, we are fully in support of the Zambians' choice to focus their day on that theme, and we're hopeful that they will invite not just regional governments but advocates and members of the press as well," adding that it is, "certainly our hope and expectation, and the nature of the dialogue we've had with them."
Berschinski spotlighted the specifics of the Summit; "the formal summit runs from next Wednesday, March 29th, to Thursday, March 30th, he said. Some of the details are listed below:
(Before the first day) Tuesday, March 28: This day precedes the first day of the Summit and is "a day of high-level thematic events. It will be, "hosted by members of President Biden's cabinet and other senior U.S. Government officials," said Berschinski.
Wednesday, March 29th: "President Biden, joined by President Chaves of Costa Rica, Prime Minister Rutte of the Netherlands, President Yoon of the Republic of Korea, and President Hichilema of the Republic of Zambia will assemble world leaders in a series of virtual leader-level plenary sessions. We've extended invitations to 120 foreign governments and other partners to join this group. Interspersed throughout the day will be interventions from noteworthy pro-democracy and pro-human rights advocates who will have a chance to address government leaders," he said.
Thursday, March 30th: Each of the co-hosting nation-states, "will host (in its capital) an in-person regional ministerial-level gathering with representatives from foreign governments and non-governmental actors. So, what audiences will witness on March 30th is pretty unique, as we'll have a Summit ongoing in five [5] different locations around the world, all happening on the same day. The U.S.-hosted event on March 30th will focus on advancing technology for democracy, the topic of which will be a significant focus area of U.S. announcements during the summit."
On key aspects related to how a democracy should have "accountable governance," Berschinski explained that, "The Costa Rican event will focus on the role of youth in democratic systems; the Dutch event will focus on media freedom as a cornerstone of democracy; the South Korean event will focus on the fight against corruption; and the Zambian event will focus on bolstering free and fair elections."
He added, "The U.S. Government is sending high-level delegations to each of our co-host partners' events in support of what they're doing. So, for example, Ambassador Katherine Tai, the U.S. Trade Representative, will lead our delegation in Korea, and Ambassador Linda Thomas-Greenfield, our ambassador to the United Nations, will lead the delegation to Costa Rica."
On fighting corruption, U.S. Secretary of the Treasury, Janet Yellen and the kinds of ways the U.S. Department of Justice fights for issues such as the rule of law from transnational threats, which will be delivered in some speeches.
Pearl Matibe is a Washington, DC-based foreign correspondent, and media commentator with expertise on U.S. foreign policy and international security. You may follow her on Twitter: @PearlMatibe